Gospel Transformation Bible. Edited by Bryan Chapell and Dane Ortlund. Wheaton, IL: Crossway, 2013. $25.93 (Amazon). 1904 pp.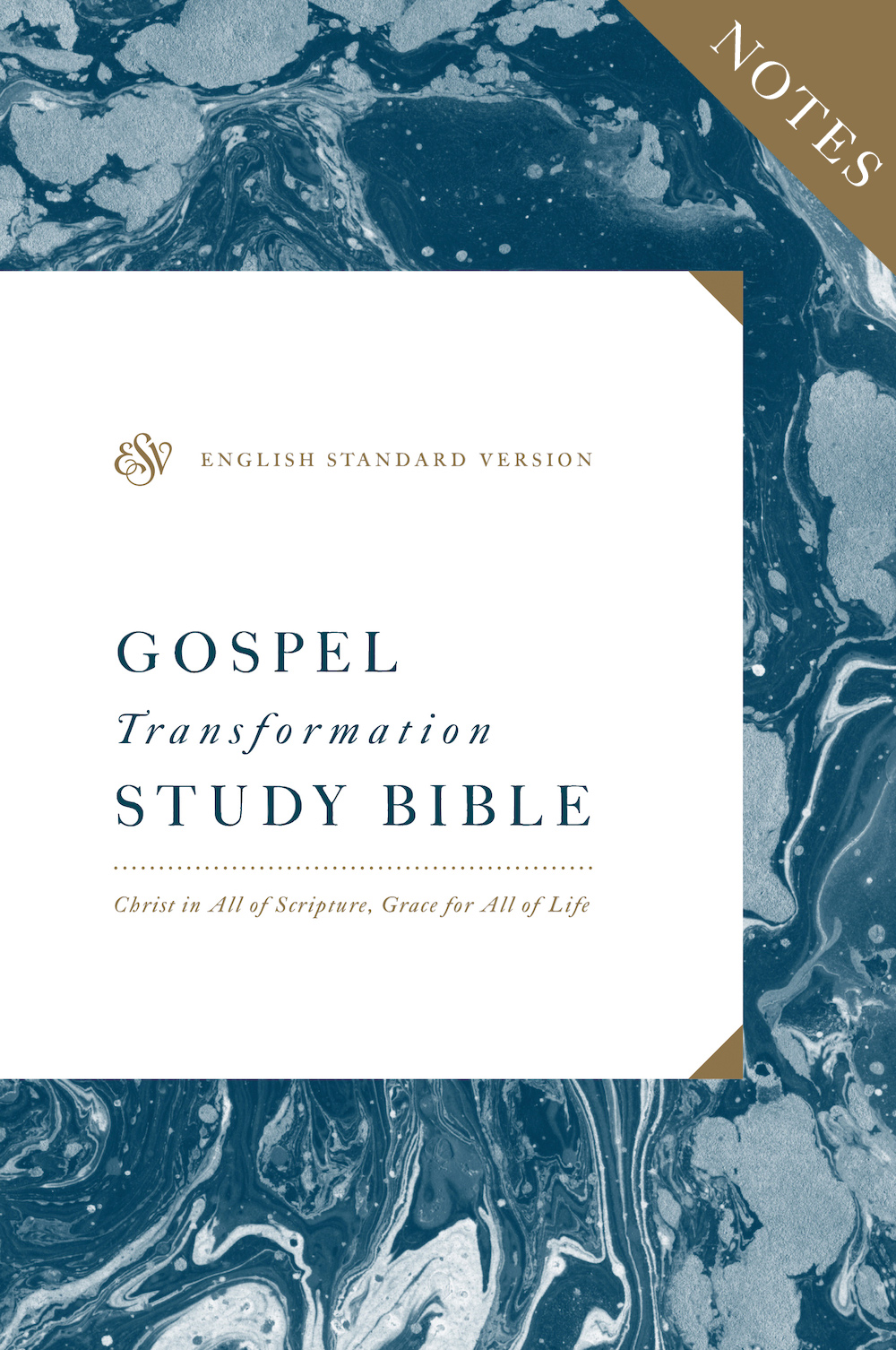 Five years ago this month the ESV Study Bible–the "Lexus" of study Bibles, a friend once said–was first published. It has served thousands of Christians well. Now, Crossway has published a new type of application Bible with the same, beloved ESV text: the Gospel Transformation Bible.
Bryan Chapell and Dane Ortlund teamed up to edit this new volume, and over fifty scholars, pastors, and ministry practitioners wrote the application notes. In the introduction, Chapell stated that the goal of the GTB is two-fold: to identify gospel themes in every text and help readers apply gospel truths to their everyday lives.
The first thing to know is that this is not an expository study guide for Biblical passages. You will probably not want to run to this book if you want to know what a specific verse means. It also is not a book that tells you specifically what to do in life situations unlike, perhaps, older application-based study Bibles.
The GTB is somewhere in-between the two. It is intensely theological, but also heartily practical. You may not agree with every application, but that's okay. You wouldn't agree with every note in an academic study Bible either. What the GTB will do is help you understand the flow of redemptive history from Genesis to Revelation. It will equip you to discern how every text reveals some aspect of God's grace, fully realized in Jesus Christ. But it will also point you toward gospel-centered motivations for personal and corporate holiness as it displays how grace, not self-empowered determination, changes us from the inside-out.
Gospeliscious Features
The book is pretty simple–there are four main features that will help you in your pursuit of gospel transformation as you read and study the Bible.
The Introduction. Chapell's seven page introduction will probably be as valuable to readers as the actual passage notes. In the introduction, Chapell explains the importance of putting every text into its redemptive-historical context if we want to understand how that passage points us to Jesus. "[This] does not mean that every text mentions Jesus," he writes. "Rather, every text relates some aspect of God's redeeming grace that finds its fullest expression in Christ" (viii). He proposes four categories for identifying this grace in all of Scripture. He states that we must "identify how God's Word predicts, prepares for, reflects, or results from the person and/or work of Christ" (ix). The notes for the Scriptures are tethered to these categories, but are by no means enslaved to them. Approaching Scripture with this framework will propel us beyond good interpretation toward "stimulation of a profound love for God that bears holy fruit, as pleasing the One we love above all brings our most profound and compelling joy" (xii).
A Gospel Roadmap. Each biblical book is introduced with a gospel roadmap (my word, not the GTB's) for that particular book. This will help readers look out for the book's major gospel themes. So, for example, the introduction to 1-2 Chronicles reveals that "[The genealogies] represent the carefully crafted lens through which we observe the one plan of God's redemption. They teach us to rest in the unwavering commitment of God to fulfill all of his covenant promises" (489). Or take the introduction to Jude: "First and most pervasively, Jude displays the 'photo negative' of the gospel, giving us a vivid and dark picture of those who twist the lavish grace of the gospel into a license to sin" (1719).
The Notes. The notes on the Scriptures are going to connect the themes of Scripture together and show how only Christ can bring them to full resolution. They are going to show us how to apply the gospel in every aspect of life. When we turn to a typical study Bible, we are going to see what the text meant to the original hearers. In a typical application Bible, we are going to learn what to do. The GTB, however, is going to pave the way to see how God's grace in Christ redeems us from our sin and empowers us to follow Christ and what our motivation is for doing so.
Topical Index. At the end there is a lengthy topical index that will help readers "see the way themes are picked up and developed throughout the Bible" (1755). From Abraham to Zion, and everything in between, this will greatly help readers understand how the Bible brings these topics to climax in Jesus. This will, no doubt, be useful for everyone from parents to Bible study leaders to preachers.
One Suggestion for Future Editions
In future editions, I think it would be wonderful to have some articles sprinkled in throughout the volume, or collected at the end of the book. One of the great things about the ESV Study Bible was that it had dozens of valuable articles on various biblical, theological, ethical, and historical issues. I think readers would be served well by expanding on the notes in articles that dig a bit deeper into some of the more significant gospel themes (covenant, creation, idolatry, atonement, etc.) and how God uses them to transform us.
A Home Run Resource
I highly recommend The Gospel Transformation Bible as you study the Scriptures. This is the study Bible you've been waiting for. Personally, I would love to get a copy into the hands of every person in our church.
If you need more convincing, watch this video of the GTB editors (16 minutes).